Editie Speciala – Noiembrie 2015
Acesta se vrea a fi un newletter
special, dedicat unui geocacher urecheat si unui eveniment unic – un film
'fabricat' in Romania care a ajuns in finala GIFF ("Geocaching International
Film Festival").
Despre iepu09 sigur ati mai auzit: mistere care sa te scoata afara din casa, drumetii montane, pastorit grupul geo de FB, jocuri de poker, cadouri de craciun,
sufletul petrecerilor din ultimii ani la GQ …si ma opresc aici ca o sa-i
explodeze pipota cand citeste J
E…si cu toate astea…ne-am mai surprins
cu ceva: a stat el asa pe shestache si a facut o frumushatza de film care a
ajuns in finala GIFF !!! (pentru cei care nu stiu – Groundspeak organizeaza
anual un festival de film legat de lumea geocachingului)

De regula se
organizeaza un eveniment gigant in Seattle, USA; insa
datorita unei furtuni, acesta a fost anulat si a aparut idea unor
evenimente in toate lumea in care sa poata fi vizionate filmele care au intrat
in finala.
Si asa am avut "GIFF
weekend" in perioada 5-8 noiembrie care a inclus 449 evenimente in 46 tari cu
peste 14000 participanti! (in Romania am avut 2 evenimente – unul in Bucuresti, celelalt
in Sibiu)
Harta cu evenimentele pe glob: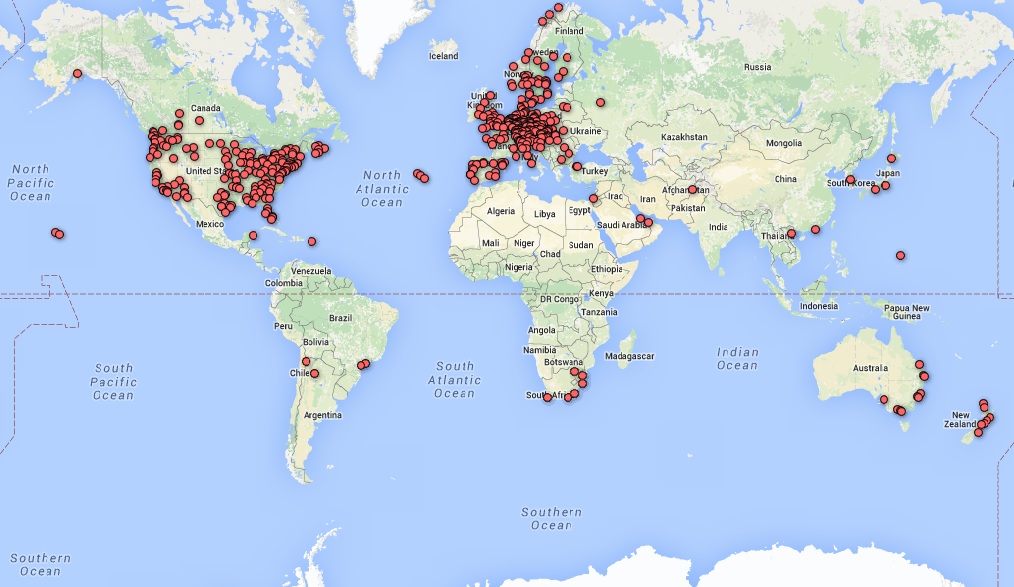 Filmul lui Cristi a
fost la inaltime. A fost foarte apreciat la mai toate evenimentele (curiosii
pot studia linkurile de mai jos). Cel mai important este ca s-a vorbit in toata
lumea de filmul de animatie romanesc! Intreaga suflare geocaching a aflat ca
exista o comunitate si in Romania care poate da ceva de calitate. Greu de
apreciat in putine cuvinte acesta minunata realizare! Respect domnu 09!
Puteti sa vedeti
filmul aici: http://youtu.be/xIiRM-eDQ3A
Ar mai fi de zis ca
filmul trateaza o tema sensibila: mentenanta. Am mai vorbit despre asta si o sa
mai tot vorbim, insa filmuletzul asta pune bine punctul pe I. Are de toate:
tema actuala, calitate, umor, personaje inspirate, simt artistic.
As putea scrie
multe pagini despre impact, insa va las sa mai descoperiti si singuri. Mai spun
numai ca aceste evenimente au umplut sali de cinema, au facut oameni sa doneze
bani pentru cauze umanitare, au miscat …suflete.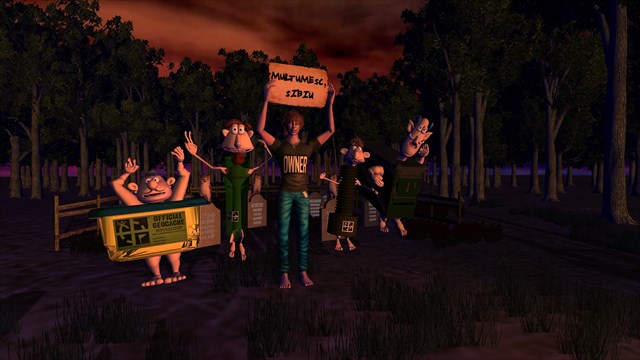 Am selectat cateva
impresii despre "Signal" (filmul iepurasului, care a cam fost in top3 in mai
toate geografiile!!!)
·
Oregon – "Most Inspiring was Signal (the
geocacher who needed to do maintenance)" (http://coord.info/GC657YY)
·
Dublin – "My favorite – I couldn't really pick
out one. But I laughed most at Signal" (http://coord.info/GC651XG)
·
Northern Ireland – "I enjoyed the variety and
the 'quirky approach' taken by some, the outstanding film for me, by a long
way, was Signal by iepu09 from Bucharest in Romania, because of the superb
animation and the strong message it conveyed. It was also, in my opinion, by
far the most professional production" (http://coord.info/GC64T02)
Linkuri legate de
event:
·
lista tuturor evenimentelor GIFF 2015 – http://www.geocaching.com/blog/2015/08/giff-weekend-2015/
·
ce se zice pe blogul oficial despre weekend-ul
GIFF: http://www.geocaching.com/blog/2015/08/giff-weekend-2015/
·
din lucrurile minunate intamplate in acel
weekend (nu ratati nr10!) http://www.geocaching.com/blog/2015/11/18-amazing-things-that-happened-during-giff-weekend-2015/
·
Taunus (Germany) pe youtube: https://www.youtube.com/watch?v=lyPiGgX0yTY&feature=youtu.be
·
Rezultault voturilor in Cehia si Slovacia: http://vojtechaudy.cz/wp-content/uploads/czech-and-slovaks-GIFF.jpg
·
Slovenia: http://www.geocacher.si/giff-v-sloveniji/
·
Nu in ultimul rand…un mini-interviu cu regizorul
roman (right-click + translate to English): http://www.6123tampere.com/2015/11/24/haastattelussa-signal-elokuvan-tekija-iepsu/
Cristi…MULTUMIM!
PS. Imi cer scuze
de 'non-profesionalismul' html-ului, insa fara iepu09 lumea geocaching Romania
e mai saraca